Carpet Extractors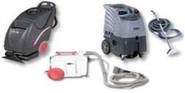 Whether you call them Carpet Extractors, Carpet Shampooers, or Carpet Cleaning Machines these high quality commercial machines make the work go faster and your carpets cleaner.
Also, find Carpet Shampoo, Carpet Spotter, Carpet Defoamer and other needed accessories.
Choose from several premium brands including: Clarke, Viper, Sandia, Koblenz, Sanitaire, Mercury, NaceCare, Cleaning Stuff. We carry all of the top brands at lower than "wholesale" prices.