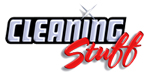 Red Clean and Buff Pads.
Compare To: 3M - 5100 Red Buffer; Americo - Red Buff; ETC - Red Spray Buff
For Spray Buffing, Light Cleaning And Polishing.
Red Pads are more aggressive than White Pads and less aggressive than Blue Pads.
For use with machines that rotate at Up To 800 RPM or oscillating vibration style machines.
Red Pads are a light abrasive pad for spray buffing to a satin gloss and for light cleaning.
The fibers are more open to help keep the pad from glazing over.
Can be used under automatic scrubbers for nightly cleaning schedules.
14x20 Inch Rectangle.
1 Inch Thick.
Case of 5 Floor Pads.
Ship Code:
FREE
Sold By:
CS/5
SUPPLIER:
Americo
MPN:
40441420
INTERNAL NOTES:
GW stock.
Style:
Clean and Buff Pad
Type:
Red Clean and Buff Pad
Size:
in.= 14x20