Vacuum Cleaners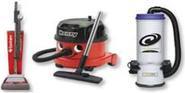 Commercial vacuum cleaners for cleaning Carpets, Hard Floors and more.
Whether you need a Backpack Vacuum Cleaner, Upright Vacuum Cleaner, Canister Vacuum Cleaner or a Wet Dry Vacuum Cleaner, we have the right one for you!
Choose from several premium brands including: ProTeam, Clarke, Sandia, Viper, Sanitaire, Oreck, Mercury, NaceCare, Hoover, Rubbermaid, TaskPro, ShopVac. We carry all of the top brands at lower than "wholesale" prices.