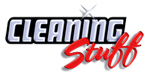 Brown Strip Foor Pad.
Compare To: 3M - 7100 Brown Stripper; Americo - Brown Stripping; ETC - Brown Strip
Aggressive Strip Pad For Removing All Finish, Sealer And Contaminants From The Floor Surface.
Less aggressive than Black Pads, more aggressive than Green, Blue, Red, White Floor Pads.
For use with machines that operate at 175 To 350 RPM.
An very stripping pad or for heavy duty cleaning.
It is designed to be used to wet strip or dry strip a floor.
High quality abrasives and materials make this an efficient tool for floor finish removal.
12 Inch Diameter.
1 Inch Thick.
Case of 5 Floor Pads.