Paper, Plastics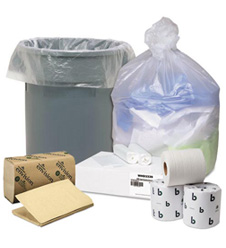 Commercial paper and plastic products for restrooms, kitchens and more.
From Jumbo Toilet Tissue to Roll Towels to Trash Bags and everything in between, we have it! Also find Carts, Tilt Trucks, Trash Bags, Trash Cans, Electric Hand Dryers, Paper Cups, Paper Plates and other products supporting this section.
Choose from several premium brands including: Charmin, Kleenex, Angel Soft, Envision, Georgia Pacific, Scott, Cottonelle, Preference, Boardwalk, Windsoft, Kimberly Clark, Acclaim, Bounty, Signature, Scottfold, World Dryer, Solo, Dixie, Dart. We carry all of the top brands at lower than "wholesale" prices.
Photo
Price
Sold By
Ship Code
Product Number
Product Name