Other Stuff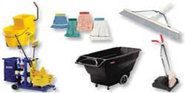 Professional Cleaning Tools for the many special requirements that the Cleaning Professional may require.
Other Stuff includes: Mops, Buckets, Wringers, Brushes, Brooms, Carts, Air Movers, Squeegees, Door Mats, Gloves, Tilt Trucks, Trash Cans, Lawn Mowers, Steam Cleaners, Loading Ramps, Trigger Sprayers, Training Videos and more.
Choose from several premium brands including: Rubbermaid, Unger, Andersen Mats, Link Ramps, Viking, 3M, KleenGuard, Witt, Unisan. We carry all of the top brands at lower than "wholesale" prices.