Cleaning Chemicals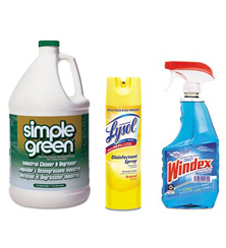 Commercial cleaning chemicals for cleaning Floors, Carpets, Restrooms, Kitchens, Offices and more.
Whether you need Glass Cleaners, Degreasers, Disinfectants, Floor Cleaners, Floor Finish or All Purpose Cleaners, these high quality commercial cleaning chemicals make the work go faster and your building areas cleaner!
Choose from several premium brands including: 3M, Franklin, Windex, Ajax, Comet, Lysol, Pledge, Resolve, Sheila Shine, Murphy's Oil Soap, Gojo, Clorox, Tilex, Easy Off, Pine Sol, Fabuloso, Fantastik, 409, Simple Green, Mr. Clean, Joy, Tide, Spic N Span, TimeMist, Boardwalk. We carry all of the top brands at lower than "wholesale" prices.